About us
O'Kroshka is a small passionate team united with the common idea of creating interesting developing coloring books "for any occasion". Part of them (the one from where O'Kroshka project has actually started) are coloring books for young generation of artists. They are designed to attract children to creativity, to develop their motor skills and to conduct educational games as well (for example, coloring books that help children to learn alphabet). These "funny pictures" are good distraction from the electronic toys – smartphones, tablets, PCs etc. However, the army of our fans is not limited only with children. Adults are also happily buying our products, as in the modern world it is so vital from time to time to have some kind of "anti-stress" activity. And our extraordinary coloring books appeared to be perfect for it. In addition, we are producing coloring cards, "anti-bored" pocket coloring books and planning few more interesting projects that will be announced to our customers shortly.
The history of the brand
"O'Kroshka" project has officially started in Summer, 2015. It used to be a start-up with a small budget and it has been promoted mostly through participating in the theme exhibitions, fairs and festivals. At that time Ukrainian market was completely free for such type of goods, so customers for the huge coloring books were found very quickly: after months creativity of the young team has been appreciated – children loved themes of pictures and an unusual size of canvas. Parents, in return, were happy that their children voluntarily took pencils and markers leaving telephones, joysticks and computes mice.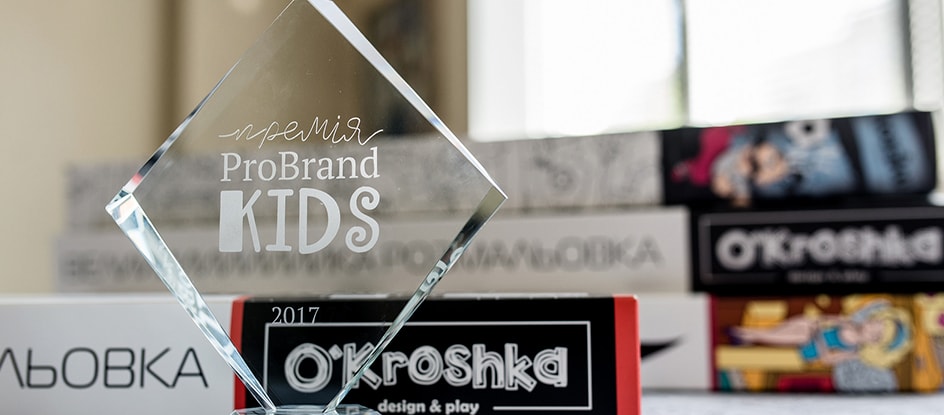 By the end of 2015 our partners have joined to distribution of products from TM "O'Kroshka" (today you can find them in all main book shops of the country, toy stores, show-rooms that are selling goods for children etc). Coloring books from "O'Kroshka" are also well-known in Europe, USA and Canada as they are presented on such famous resources as Amazon and Etsy. Products from "O'Kroshka" are keep on getting awards (our main pride is "Pro Brand Kids" 2017 in the category of "The best brand of toys for children, products for development and creativity"). The company is constantly improving and invests resources in building powerful partnership network.
How to contact us
We are always open to dialog and ready to answer any of your questions that you can ask via phone +38 096 014 77 14 or email info@o-kroshka.com.ua or through social networks.
WE ARE TRUSTED